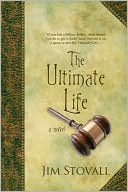 Having finished The Ultimate Gift both on demand and in the novelization by Rene Gutteridge, I just have to read this as well. It is a sequel. But if you read the Ultimate Gift written by Jim Stovall, some of the details from his original book were changed for the movie. Some reviewers got a little disappointed that the great nephew becomes the grandson and some other changes.
Jason Stevens inherited a multibillion trust from his grandfather after proving that he has learned all 12 gifts.
In this book, Jason has to prove again to the court and his family that he deserves what was given to him. It is written through Judge Davis' eye. Jason comes to court and tells them about each of the gifts and what he did to prove that he has learned from all of the gifts. Then the judge would asked him to come back the next month and prove to the court that he has also learned how to pass on the gifts to others.
I give this book a 4 star because although there is a lot to learn from the book, it did get a little repetitious.