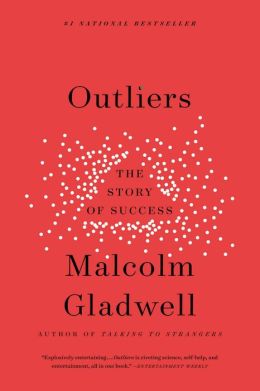 This is my first
Malcolm Gladwell
book. Thank you friend for recommending this book. "Outliers" is very interesting and proved to be thought provoking. The book is a result of his research on exceptionally successful people like Bill Gates, The Beatles, Joe Flom and others.
I was always curious about how these people become so successful at their chosen careers and Mr. Malcolm will give you the explanations that comes with their successes. The book is not a "how to become an outlier" but it explains how some has achieved such success.
It explains how successful hockey players are mostly born from January to March. That kids born earlier in the year are physically more developed and thus get noticed and given more opportunity to play and better coaching. Bill Gates and other software tycoons were born at the right time. They were in college when computers are just starting out. They seized the opportunity for computer time when the computer world was just young. Michael Jordan might be very tall but it is not just his height that made him such a successful player. Joe Flom a good Jewish lawyer, who was practicing business takeover law when nobody else was taking those cases.
Intellect may be important but as the psychologist Lewis Terman followed high IQ children into adulthood, it shows that intellect and achievement are FAR from perfectly correlated. That one can have general and practical intelligence but it does not imply the presence of the other in all instances. High I.Q. kids with involved parents also contributed to their success in adulthood.
The outliers possesses the combinations of being born at the right time and place, were given the extraordinary opportunity to put in the 10,000 hour rule to practice their crafts, has vision, talent and were in the right time and place. They were not just innately programmed to be a success, they put in hard work, lived in a community where their potentials were encourage and "luck" was there at the right moment.
In our everyday life scenario, does it mean we should prevent our kids from being the youngest in everything they do? Should we demand hours and hours of practice in the things they decide to play, be it in academics, sports, music and others?
I have a friend whose kids all have close to and even more than 4.0 GPA, all excel at the extracurricular activities they joined. Is it just because they are genetically intelligent and talented? Or is it because of the cultural legacy of being a second generation Asian-American? But then, not all second generation Americans are Bill Gates in the making. Are all their waking moment spent in studying and practicing? I don't drive my kids around to lots of stuff like my friend did all these years, does it mean I am giving my kids less opportunity to excel?